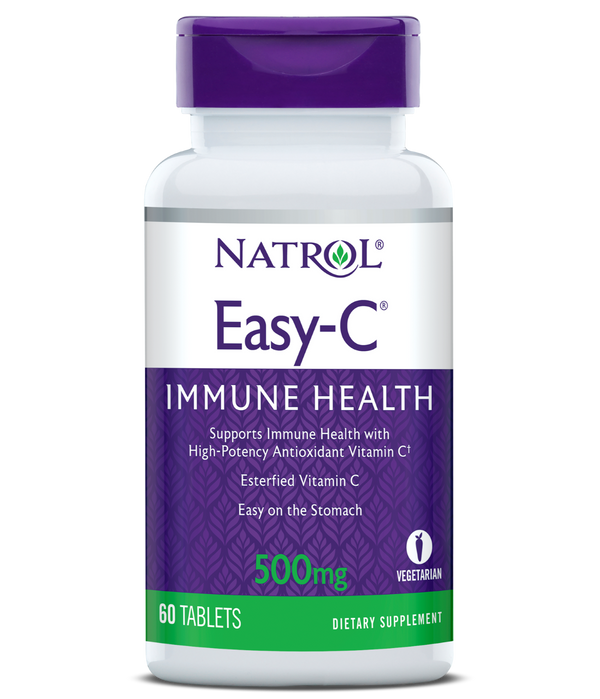 Easy-C Immune Health Tablets - 500mg
Supports immune health with high-potency antioxidant Vitamin C†
Description
Natrol® Easy-C® is a high potency antioxidant vitamin C supplement essential for optimal nutrition. Our new easy-on-the-stomach formula with Esterified Vitamin C supports your immune health.†
Vitamin C
Calcium
See below for complete Supplement Facts
NO: Milk, Egg, Fish, Crustacean Shellfish, Tree Nuts, Peanuts, Wheat, Soybeans, Yeast

Vitamin C has a long history of supporting immune health. Discovered in the 1930's, vitamin C is considered one of the foundations of modern nutrition. Vitamin C is also required for the growth and repair of tissues in all parts of the body. It aids in iron absorption, collagen production and overall skin and bone health.

Natrol Easy-C is a high potency antioxidant that contains esterified Vitamin C. Esterified Vitamin C is a dietary supplement formulated to eliminate vitamin C's usual acidity, making it easy-on-the-stomach. Esterified Vitamin C is both water and fat soluble and provides quicker absorption and better retention for superior health benefits. Esterified C is four times more effective than conventional Vitamin C.


Supports immune health with Vitamin C†

Powerful antioxidant formula

Esterified Vitamin C

100% vegetarian

Tablets available in 60 count and 120 count

Help build your body's defenses with Easy-C. Looking and feeling healthy has never felt so easy!

Take 1 tablet, one time daily, preferably with a meal. WARNING: Consult your healthcare professional prior to use if you have or suspect a medical condition, are taking prescription drugs, or are pregnant or lactating.
Made with clean ingredients
*Products may vary
Supplement Facts
Servings Per Container: 60 / 120
Vitamin C (from Calcium Ascorbate, Ascorbyl Palmitate)
Calcium (from Calcium Ascorbate, Dibasic
Other Ingredients: Cellulose, Stearic Acid, Silicon Dioxide, Hypromellose, Cellulose Gum, Magnesium Stearate, Methylcellulose, Glycerin